Receding hairlines and thinning crowns have become common hair concerns for both men and women, as these can lead to baldness if left untreated. Moreover, hair loss can also have a negative psychosocial impact leading to depression, negative self-image, and low-esteem.

Luckily, advanced hair rejuvenation treatments such as KeraLase™ have made it possible to treat hair loss and hair thinning in both men and women. 
Keep reading to find out what makes KeraLase™ an ideal hair loss solution.
How Often Do Men And Women Experience Hair Loss?

According to the American Hair Loss Association's statistics, men tend to start losing their hair as early as their 20's. About 66% of men also experience some form of hair loss by the age of 35. 
Meanwhile, more than 40% of American women suffer from significant hair loss by the age of 40. 
What Causes Hair Loss?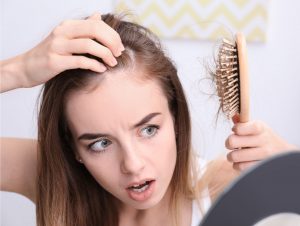 There are a number of factors that can cause your hair to thin and/or fall out. These include:
Hormonal imbalance (particularly androgens, a group of male hormones that are also present in women)

Birth control pills, pregnancy, or childbirth

Chronic stress

Certain medications or treatments (e.g., chemotherapy)

Medical conditions, such as thyroid disorders or iron deficiency

An unhealthy diet
What Are The Options Available For Treating Hair Loss?
Previously, hair transplants or OTC medications (like minoxidil) were the only options for those seeking hair loss treatments. However, surgical treatments for hair loss come with the risk of serious side effects such as scalp infections, scarring, and itching. On the other hand, OTC medications can take years to produce a significant effect.

Now, with cutting-edge hair rejuvenation treatments like KeraLase™, hair loss can be treated in a short amount of time without having to go under the knife and with far less risks. 
What Is Keralase™ And What Can I Expect During Treatment?
KeraLase™ is a trademark hair loss treatment by Lutronic that combines laser technology with nutrient-rich proprietary formulations of growth factors and peptides called KeraFactor®.

1. LaseMD™ uses a controlled laser to make hundreds of microchannels on the scalp to increase its ability to absorb the nutrient-rich serum.
2. The second step is the application of KeraFactor® serum, which contains growth factors and peptides. This step can take as little as 10 minutes to complete.
What Are The Benefits of the Keralase Hair Rejuvenation Treatment?

KeraLase™ can offer the following benefits to men and women suffering from hair loss:

1. Stimulates new hair growth
2. Restores hair density and volume.
3. Nourishes the scalp to promote better scalp health.
What Makes Keralase™ An Ideal Hair Rejuvenation Treatment?
KeraLase™ is a non-invasive treatment that nourishes and helps regenerates hair at the cellular level.

Unlike hair transplant surgery, Keralase™ doesn't require a lengthy recovery time. The whole process is virtually painless and takes less than 30 minutes to complete. 

Unlike PRP therapy, there is no need to withdraw blood from the patient or to administer numerous painful injections to the scalp. 

Results may vary, but clinical studies have shown about 38% increase in hair growth
So, if you're looking to improve the volume and thickness of your hair and get that self-confidence back without going under the knife, KeraLase™ can be a great option for you. To know more about the procedure and how it can help you, schedule an appointment with the board-certified and well-trained treatment providers at Luxe Medical Aesthetics, Katy, TX now!