Are you tired of sagging skin, but aren't too keen on getting a traditional facelift? Why not try PDO threads instead?
A PDO thread lift is a relatively quick procedure that can lift sagging skin and promote the body's natural collagen production, thus giving you a more youthful appearance over time.
Read on to learn more about how PDO threads can benefit your skin. 
What Are PDO Threads?
PDO stands for Polydioxanone – a dissolvable material often used to make sutures. These are made with long chains of Polysaccharides (sugar), hence the PDO thread lift procedure is sometimes called a "sugar lift."
These threads are passed under the skin via a needle or a cannula and instantly create a lifting effect. As they dissolve and are absorbed by the body, this boosts the production of collagen and leads to a firming effect from within that lasts months. 
What Are The Commonly Used Types Of PDO Threads?
At Luxe Medical Aesthetics, we use two kinds of PDO threads: Solid Filler Smooth PDO threads and Solid Filler Lifting PDO threads. Solid Filler Smooth PDO threads promote collagen production that firms up the skin over time, while Solid Filler Lifting PDO threads lift and tighten sagging skin in the treated areas (i.e., like a nonsurgical facelift). 
How Can Your Skin Benefit From PDO Threads?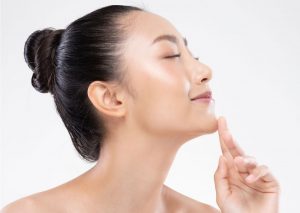 PDO Threads Provide An Instant Lift
During the procedure, PDO threads are passed beneath the skin. Once they're in place, the threads are then pulled to gently lift the tissue underneath, creating an immediate and subtle lift.
Some PDO threads have barbs or cones, enabling an even better grip underneath the skin.
PDO Threads Boost the Body's Natural Collagen Production 
PDO threads dissolve gradually within 3-6 months, triggering a healing response in the body, which, in turn, promotes collagen production. 
Diminished collagen is one of the primary reasons for sagging skin and the appearance of mild to moderate facial lines and wrinkles. With increased collagen production, your skin will look and feel a little tighter, smoother, and plumper each day for months, giving you a more youthful yet still natural-looking appearance.
PDO Threads Can Lift Sagging Cheeks And Jowls 
PDO threads can help lift sagging cheeks and jowls -without surgery. We use Solid Filler Lifting PDO threads for this purpose because they have barbs or cones that grip underneath the skin more firmly, providing a significant lifting effect that can last up to 6 months.

Additionally, these threads can also be used to treat deep static wrinkles such as nasolabial folds and marionette lines.  
PDO Threads Can Add Definition to Your Face and Neck
PDO threads can add definition to your jawline by lifting the skin around your neck, cheeks and jawline. 
And if you suffer from "turkey neck," where the skin on the neck sags due to diminishing collagen and weaker muscles in the neck area due to aging, PDO threads are an excellent alternative to a non-surgical necklift.
A PDO thread lift is one of the safest procedures that can give you natural-looking results -without the risks and downtime that come with a traditional facelift.
However, you should only get it from a certified and well-trained provider for the best possible results. Our team at Luxe Medical Aesthetics is board-certified and well-trained in carrying out a PDO Thread Lift, so you can rest assured that you'll be in good hands.

Schedule an appointment now to get a world-class PDO thread lift experience in Katy, Texas.