LaseMD Ultra is a 1927nm non-ablative resurfacing laser that has versatile functions and settings to treat all skin types all year round.
REDUCE FINE LINES/WRINKLES
LaseMD Ultra treatment can be customized to more aggressive energy settings to address fine lines and wrinkles.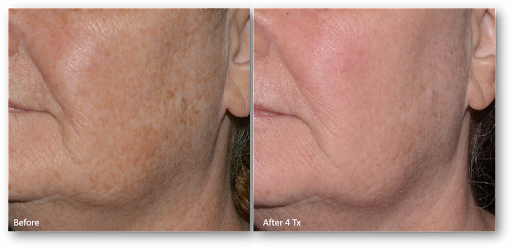 A series of 3 treatments is recommended for optimal results. LaseMD Ultra is often used in combination with Clarity II for removal of unwanted non-cancerous pigment.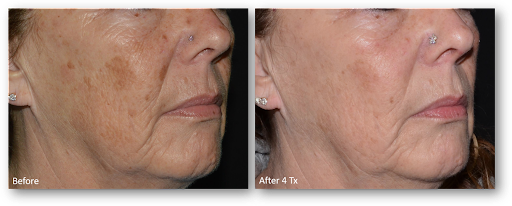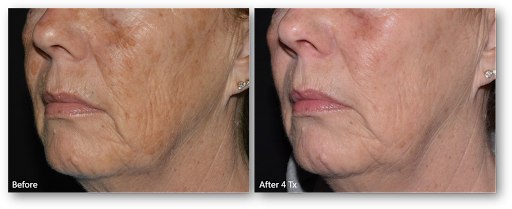 There is minimal recovery period after LaseMD Ultra treatment. You can expect mild redness afterwards, but this can be easily camouflaged with application of a tinted mineral sunscreen.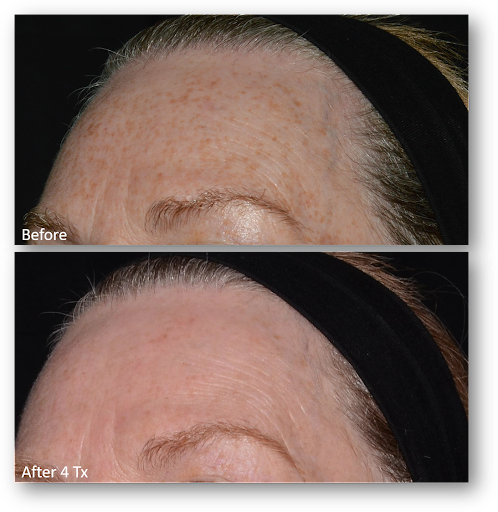 REDUCE FINE LINES/WRINKLES
Lutronic Ultra laser rebuilds glowing, healthy skin through non-ablative fractional delivery. Ultra can be easily customized from mild to aggressive settings and provides intelligent, cost-effective skin revitalization with virtually no downtime for all patients, year round. Can be used to treat:
This all in one treatment combines exfoliation of the skin, laser and application of products. This gentle non-invasive laser with little to no downtime, stimulates collagen to rejuvenate, decrease pore size and fine lines, smooths out skin texture and tone, diffuses redness and scars and even out skin complexion.
Book Your Laser Treatment Today!
Microneedling Menu + PRP Menu
LUTRONIC - GENIUS RF MICRONEEDLING
Lutronic Genius RF Microneedling combines Radiofrequency with Microneedling to target multiple depths of your skin to stimulate collagen and elastin production. Both mechanisms of Microneedling and heating tissue with Radiofrequency causes injury to the tissue beneath the epidermis (top layer of the skin). Injury triggers the body's natural healing cascade which in turn promotes the building of new collagen and elastin. There are many benefits of Genius RF microneedling including the following:
Building collagen and elastin keeps the skin appearing youthful and healthy. It is important to have a good skincare regimen when considering treatment with Genius RF microneedling.

The stimulation of new collagen and elastin production reduces the appearance of acne scars. A series of 3 sessions every 4-6 weeks is recommended for optimal results.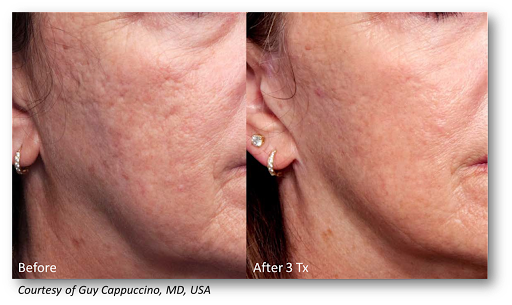 Genius RF microneedling can reduce oil production and pore size, thus leading to overall improvement of acne.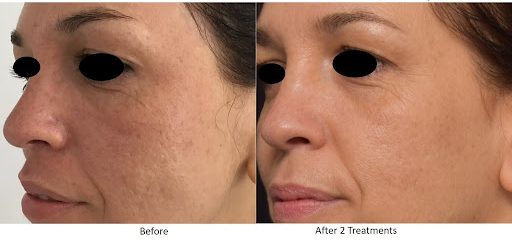 After the age of 20, we lose about 1% of collagen every year. To keep skin appearing youthful & healthy, it is important to maintain abundant levels of collagen & elastin. Collagen is a protein made up of amino-acids & makes up about a third of all of the protein in your body. Collagen is often referred to as the "glue that holds everything together." It keeps the skin elastic & firm.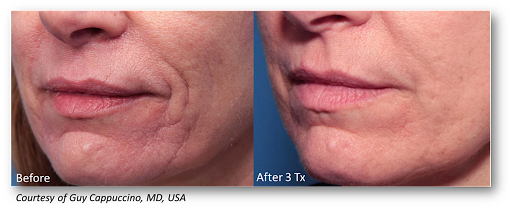 REDUCE FINE LINES & WRINKLES
The effects of Genius RF Microneedling happen gradually as the body builds more collagen and elastin. Results will be noticeable soon after treatment, but will be most apparent after 6 months as it generally takes this long for the body to complete its healing cascade.
Genius RF microneedling is often performed in conjunction with LaseMD Ultra. While Genius works on the deep dermis, LaseMD Ultra resurfaces the skin to reduce unwanted pigment, improve fine lines and wrinkles.
Lutronic Genius® - Intelligent Volumizing and Lifting
The Genius® RF is an intelligent, innovative energy based device that has revolutionized non-surgical lifting and rejuvenation, and combines radiofrequency energy technology with unparalleled depth and skin precision with 49 gold-plated needles to treat the deepest layers of the skin to stimulate collagen and elastin in a fast, almost painless treatment. It is FDA approved to tighten skin, improve skin texture, soften wrinkles, and treat scars and provides deeper and more precise targeted energy delivery than any other system on the market for optimal results.
SkinPen is the first FDA-cleared microneedling device that stimulates the body's natural healing process. The device creates tiny, controlled punctures in targeted areas of your skin. We adjust the puncture depth to your precise needs, creating a more personalized treatment that minimizes your downtime while creating effective results.Used to treat fine lines and wrinkles, age spots, stretch marks, hyperpigmentation, acne scarring, rough skin tone and texture.
PRP is combined with your SkinPen® treatment to maximize your results and allow your body to recover and heal in a shorter period of time. The PRP treatment stimulates the collagen production that Micro-Needling causes and results in the beautiful glow you see immediately after your treatment.
Book Your RF Microneedling Treatment Today!