KeraFactor Peptide Complex (KFP™) is a hair and scalp treatment serum containing a unique and proprietary formulation. This one-of-a-kind topical serum contains five bio-identical growth factors and two skin proteins, essential for scalp and hair health. Each highly concentrated peptide is individually wrapped in a nanoliposome carrier for enhanced absorption by the skin.
It is a clinically proven therapy for treating hair loss, improving scalp health, and stimulating hair growth.
Keralase is a revolutionary new treatment for hair loss (improved over PRP) using Lutronic Ultra laser and KeraFactor. KeraFactor serum has proprietary biometric synthetic versions of growth factors and proteins which promote hair growth. Ultra alone showed significant improvements in scalp revitalization.

Lutronic Ultra laser creates tiny "microchannels" in the scalp which help to increase the absorption of KeraFactor. KeraFactor is then applied and massaged into the scalp. There is minimal pain, no bleeding, and no downtime. No needles or shots are required.

WHY IS KERAFACTOR BETTER THAN PRP?
KeraFactor has highly concentrated levels of growth hormones and proteins that specifically boost hair growth and affects all 4 stages of the hair life cycle. Kerafactor is coated with nano-liposomes which aid its absorption, allowing for enhanced delivery of growth hormones directly to the hair follicles. Each nano-liposome contains thousands of each specific growth factor.
Platelets have variable amounts of growth factors depending on the genetics and health conditions of the person. Platelets also contain growth factors that actually inhibit hair growth. Platelet therapy requires a blood draw, centrifuge, followed by multiple injections into the scalp. Even after numbing medication, the injections can be painful and lead to bruising or hematomas.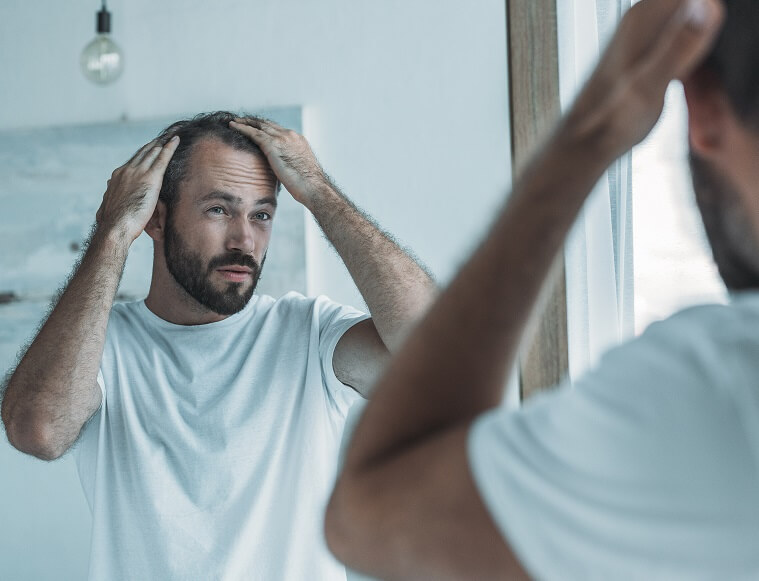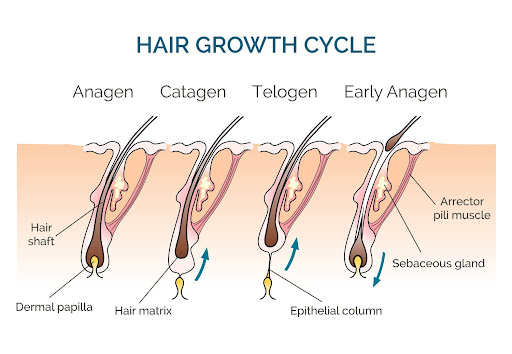 What are the Stages of Hair Growth?
The scalp has about 100,000 hair follicles. It can be normal to lose about 100 hairs daily. The growth phase, or anagen phase, lasts an average of 3-5 years. Once the cycle is complete, it restarts and a new strand of hair grows.
What are common reversable causes of hair loss?
For Keralase to be successful, you should be the right candidate. So making sure that you don't have these following untreated conditions is important.
Individual results may vary and are difficult to predict. However, ideal candidates will experience an overall improvement in scalp health along with noticeably thicker healthier hair within the first few months following a recommended course of treatment. Results are progressive and will continue to improve over the following 12-18 months. Clinical studies have shown around a 40% increase in overall hair growth and a 64%-113% increase in individual hair diameter.
Who can benefit from Keralase?
If you struggle with hair loss, thinning hair, adult-pattern baldness, or certain forms of alopecia, KeraLase™ may be the right treatment for you. Hair transplant patients appreciate that a course of KeraLase™ treatments help transplanted follicles flourish, improves blood circulation and vascularization to existing follicles, and further revitalizes existing hairs for a more even and natural appearance. Patients with underlying medical conditions such as anemia, thyroid disorders, elevated testosterone or decreased estrogen levels (peri/post-menopause), Cushing's Syndrome, vitamin B12 and/or iron deficiencies, heavy metal toxicity (mercury / arsenic), or are taking certain prescription medications (Zoloft, Prozac, etc) may not be the right candidates for KeraLase™.
Recommended course of treatment: A minimum of 3 – 6 in-office treatments scheduled 3 – 4 weeks apart. Home care products are optional and can significantly enhance KeraLase™ treatment results.
KeraFactor™ Scalp Stimulating Solution:  Renew & revitalize your scalp with the proprietary KeraFactor™ Peptide Complex.
KeraFactor™ Shampoo & Conditioner:  Stimulates the scalp for better absorption of KeraFactor™ Scalp Stimulating Solution.
KeraFactor™ LaserCap (Low-Level Light Therapy):  Red and Infrared light have been clinically shown to boost the ATP levels in the cells and promote hair growth
Minoxidil:  Improves the blood flow to the scalp, thereby improving the nutrient supply to the hair follicles
Nutrafol or other hair supplements containing natural ingredients clinically shown to improve hair growth, thickness, and lessen shedding
KERALASE - BEFORE AND AFTER PHOTOS:
Book Your Hair Rejuvenation Appointment Today!