What is a PDO Thread Lift?
A PDO thread lift is a simple non-invasive procedure that uses absorbable sutures to tighten and lift sagging skin while encouraging new collagen production. As opposed to a facelift procedure, a PDO thread lift is minimally invasive and usually takes less than an hour to complete. The results are temporary but offer noticeable anti-aging effects. Recovery is minimal and patients can get back to their daily activities quickly. This makes thread lifts ideal for patients who are looking for a non-surgical anti-aging option.

Time in office: 30 to 60 minutes
Recovery time: 3 weeks
Results are: Results typically last between one to three years.
Benefits: Non-surgical alternative to facelift.
Recommend course of treatment
What areas can be treated with PDO Threads?
A thread lift can treat most parts of your face that are experiencing signs of aging.
Most commonly treated areas: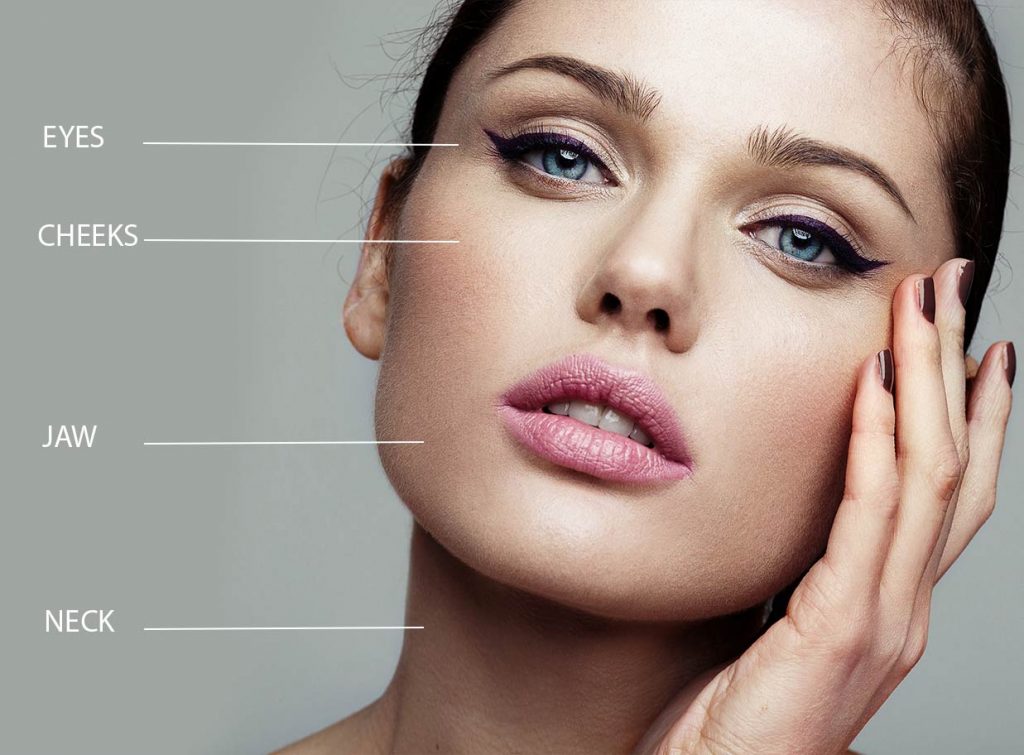 When you arrive for your thread lift procedure, Dr.Trinh will begin by swapping the treatment area with alcohol, then apply a local anesthetic to ensure your maximum comfort. Dr. Trinh will then use a pre-loaded cannula to insert the threads under the skin according to your treatment plan. The entire treatment can take 30 minutes to one hour depending on the number of treatment areas.
Clients can expect to feel mild to moderate pain that can be managed with pain medications, as well as swelling and bruising that typically subsides in a week. To realize full-range results of the PDO thread lift procedure, allow about three weeks or so for the skin to start producing more collagen. By this time, the skin is usually realigned and your facial rejuvenation results begin to appear.
Book Your Botox Appointment Today!
A PDO thread lift causes immediate improvements in skin sagging after the procedure and it can last up to 6 months.
Solid Filler Smooth PDO Thread
Have long-term collagen building, skin rejuvenation, acne scars, smooth crepey skin, eyebrow lifts, vermillion border pop, radial lip lines, safe glabellar frown lines, cheek enhancements, nasolabial folds, oral commissures, marionette lines, neck lift, and more!
Solid Filler Lifting PDO Thread
Lift and tighten sagging skin, cheeks, jowls, jawline, oral commissures, nasolabial folds, marionette lines, perform a non-surgical facelift and more.
What are PDO Smooth Threads?
A treatment that involves placing smooth, absorbable threads underneath your skin, PDO smooth threads stimulate and accelerate the production of your own collagen, elastin and hyaluronic acid. This delivers long-term benefits to your skin including strengthening, tightening and plumping, while reducing fine lines and wrinkles. Unlike traditional thread lifts, where there are very few suitable candidates, Rejuvenating PDO threads are suitable for most skin types and concerns, provided there are realistic expectations about the treatment outcomes.
Time in office: 30 to 45 minutes
Recovery time: one to two days
Results: lasts for up to 12 months.
Benefits: To give your skin a boost. This treatment is a skin strengthener.
What areas can be treated?
Often used in areas of tired skin or skin with a crepey texture, around the eye area, the upper lip, the hollows of the cheeks, under the chin or around the mouth, smooth PDO threads can be placed under the skin where you are looking for tightening or smoothing.
Threads can also be used anywhere on the body requiring skin tightening. Favorite areas include the abdomen, arms and above the knees.
The area being treated will first be numbed with numbing cream, numbing injections, or both. Once you are adequately numbed, the mono threads will be placed into the skin in a specific pattern created for your specific needs. During this time, you may feel a slight pinch, tugging, or pressure.You can continue with most regular activities after your treatment is complete.
Typically mono thread treatment has no downtime. Redness, swelling, and bruising can occur. Redness, swelling, and soreness/tenderness will typically resolve within 24-72 hours. Bruising will typically resolve in 1-2 weeks. Results are not immediate as it takes time for the suture to dissolve and your body's healing mechanism to work. You usually start to see results after 4 weeks, with optimal results after a full treatment cycle at around 3 – 4 months. Occasionally, facial volumization with dermal fillers is required prior to or on the same day as the PDO threads in order to obtain optimal results.